Lester and Sue Smith
Legacy Tower

The Lester and Sue Smith Legacy Tower was created as the hospital's new home for heart and intensive care and surgery.
Endowed Chairs

One of our most important advantages for engaging our world-class physicians and scientists is our ability to offer endowed chairs.
Charity Care

Texas Children's has served more and more children and families who have limited resources and little or no insurance coverage but who desperately need the specialized care we can provide.
Texas Children's Hospital
The Woodlands

This 584,000-square-foot, state-of-the-art facility, completed May 2017, is the first and only dedicated pediatric hospital serving the communities north of Houston.
Divisions & Centers
of Excellence

Texas Children's offers complex treatments in the nation's finest specialty and subspecialty divisions from the world-class neurology and cardiology departments to the largest pediatric cancer and blood disease center in the U.S.
Patient Stories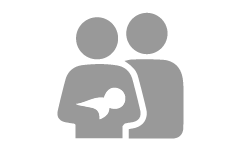 Meet the faces and families whose lives have been directly affected by our promises and your generous support.